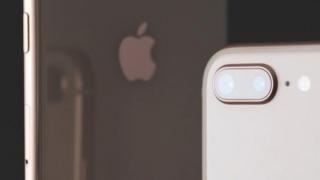 Apple sold fewer iPhones than expected in its most recent quarter but their higher price tag meant the tech giant still beat analyst forecasts.
The firm said it sold 41.3 million iPhones in the three months to the end of June, up just 1% from last year.
But the average iPhone selling price hit $724, well above the expected $694.
The firm said its $999 iPhone X – launched last year – remained its most popular iPhone model in the quarter and had driven the higher sales price.
Strong revenue growth of 31% from Apple's services business, which includes the App store, Apple Music and Apple Pay, also boosted its performance.
Overall the tech giant's revenue jumped 17% year-on-year to $53.3bn (£40.6bn), with every region except Japan reporting double digit growth.
Profit rose to $11.5bn, up 32% compared to the same period in 2017.
Shares in the Californian tech giant jumped more than 3% in after hours trading in New York.
The gains brought Apple, already the world's most valuable company, one step closer to a market value of $1 trillion.
The strong demand for the firm's most expensive phones marked a contrast with the world's largest smartphone seller Samsung, which disappointed investors by warning of lower than expected sales of its high-end Galaxy S9 .
But Apple faces increasing competition in the smart phone market.
Chinese tech company Huawei, which reported 15% revenue growth in the first half of this year, overtook Apple to become the world's second-biggest smartphone seller in the quarter, according to market research firm Canalys.
That left Apple in third place after Samsung and Huawei.